Our Research
---
Supervolcanoes, CO2 emissions and climate change
Does size matter when it comes to how deadly supervolcano eruptions are in their effect on the atmosphere and species extinctions? In a new study published in Proceedings of the National Academy of Sciences, TIGeR scientists, led by former TIGeR PhD student Qiang Jiang, accurately dated the world's second largest Phanerozoic supervolcano, the Kerguelen large igneous province in the Southern Ocean. Using lava samples obtained from the seabed via the International Ocean Drilling Program, they showed that its voluminous eruptions ~120 million years ago barely made a dent in Earth's life and climate. The key to understanding its relatively benign environmental impact was provided by analysis of the composition of melt inclusions in the lavas which indicated that the rate of CO2 emissions at Kerguelen was very much lower than for other, more deadly supervolcanoes in the geological record.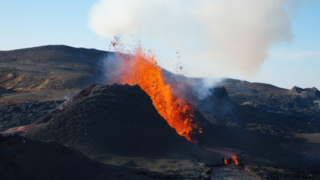 ---
Art and geology intersect on new collaboration
In an exciting new collaboration, renowned artist Janet Laurence and John Curtin Distinguished Professor Pete Kinny have teamed up to create a unique, geologically themed art installation.  Composed of more than 150 individual rock and minerals specimens sourced from all parts of Western Australia, and encompassing all geological periods, the rocks float above a wall four storeys high in the central atrium of building 418 on Curtin's Bentley campus – the newly-completed home of the School of Design and the Built Environment.  Numerous individuals and organisations kindly donated pieces for the exhibit, including the WA Museum and WA Geological Survey.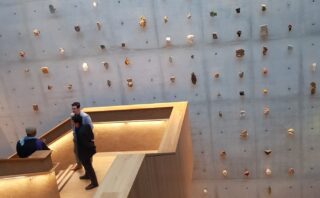 ---
Why geological field work is so amazing – meteorite find at Jack Hills
Geological field work is amazing because you never know what you will find!  Last year former TIGeR director Professor Simon Wilde led a field party to the Jack Hills in WA's mid-west to visit the famous localities in which the world's oldest minerals (zircons over 4 billion years old) have been found. Unexpectedly, while inspecting outcrops of the ancient bedrock, one of the party, Research Fellow Dr Leonid Shumlyanskyy, found a large iron meteorite of unknown origin lying on the ground. The meteorite is quite big, weighing 12.5 kg. Besides being composed predominantly of Ni-Fe alloy, it contains chromite nodules and numerous aggregates of Fe-Ni sulfides. An extensive program of geochemical, isotopic and mineralogical studies has been designed to better understand the meteorite's origin.
---
TIGeR cubs field trip to the Great Southern
Posted 3 March 2022
On a cold and wet weekend last September, a happy troupe of TIGeR HDR students set out to visit the Porongurup and Stirling Ranges in the Great Southern region of WA on a TIGeR sponsored field trip.  Strictly speaking that's a 'streak' of TIGeR cubs.  In the words of organiser and field leader Dr Hugo Olierook, "We learned a little geology, we took in Western Australia's natural beauty, and we formed some lifelong friendships. Job well done if you ask me".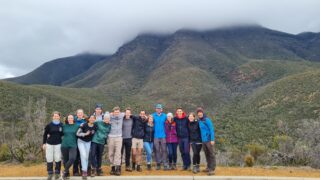 ---
Murujuga rock art monitoring project underway
Posted 10 March 2022
The arid, rocky landscape of the Burrup Peninsula and Dampier Archipelago in Western Australia's Pilbara region is one of the richest repositories of prehistoric petroglyphs in the world.  Existing alongside modern industry, there are ongoing efforts to preserve the precious rock art from potentially accelerated decline due to atmospheric emissions.  Awarded in 2021 by the WA Government's Department of Water and Environmental Regulation, an extensive monitoring program is being developed and implemented to provide statistically robust information on the condition of the rock art surfaces and causes of any detectable change.  This will guide the management plan for the area, which is proposed for World Heritage listing.  The first stage of site selection and documentation was completed late last year, with TIGeR geoscientists Katy Evans, Pete Kinny and Jack Gillespie working alongside archaeologists, project engineers, statisticians, indigenous Elders and Murujuga Aboriginal Corporation rangers to select geologically representative and culturally appropriate sample localities for inclusion in the study.  Numerous other TIGeR members will be playing key roles in the analytical programs to follow, in what will be a major, multi-year interdisciplinary project.