Our Research
TIGeR cubs field trip to the Great Southern
Posted 3 March 2022
On a cold and wet weekend last September, a happy troupe of TIGeR HDR students set out to visit the Porongurup and Stirling Ranges in the Great Southern region of WA on a TIGeR sponsored field trip.  Strictly speaking that's a 'streak' of TIGeR cubs.  In the words of organiser and field leader Dr Hugo Olierook, "We learned a little geology, we took in Western Australia's natural beauty, and we formed some lifelong friendships. Job well done if you ask me".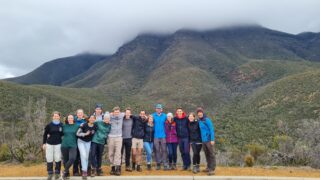 ---
Murujuga rock art monitoring project underway
Posted 10 March 2022
The arid, rocky landscape of the Burrup Peninsula and Dampier Archipelago in Western Australia's Pilbara region is one of the richest repositories of prehistoric petroglyphs in the world.  Existing alongside modern industry, there are ongoing efforts to preserve the precious rock art from potentially accelerated decline due to atmospheric emissions.  Awarded in 2021 by the WA Government's Department of Water and Environmental Regulation, an extensive monitoring program is being developed and implemented to provide statistically robust information on the condition of the rock art surfaces and causes of any detectable change.  This will guide the management plan for the area, which is proposed for World Heritage listing.  The first stage of site selection and documentation was completed late last year, with TIGeR geoscientists Katy Evans, Pete Kinny and Jack Gillespie working alongside archaeologists, project engineers, statisticians, indigenous Elders and Murujuga Aboriginal Corporation rangers to select geologically representative and culturally appropriate sample localities for inclusion in the study.  Numerous other TIGeR members will be playing key roles in the analytical programs to follow, in what will be a major, multi-year interdisciplinary project.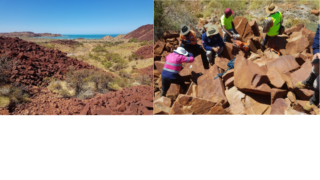 ---