News Archive 2021
ARC Future Fellowship awarded to Katarina Miljkovic
Posted 25 August 2021
Congratulations to TIGeR planetary scientist Associate Professor Katarina Miljkovic who has just been awarded a Future Fellowship by the Australian Research Council among six recipients at Curtin.  The Future Fellowship scheme provides four years of funding in support of excellent mid-career researchers.  Katarina's award will enable her to continue her leading work on impact craters on Earth and on Mars, expanding our understanding of the Solar System and the potential endowment of minerals, energy and water resources associated with past cratering events.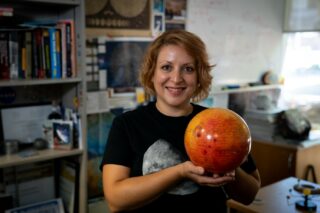 ---
ARC Laureate Fellowship awarded to Kliti Grice
Posted 14 July 2021
Announced last week by the Federal Minister for Education and Youth, The Hon Alan Tudge MP, John Curtin Distinguished Professor Kliti Grice, leader of TIGeR's Organic and Isotope Geochemistry Centre, has been awarded a prestigious Laureate Fellowship by the Australian Research Council. The Fellowship will provide $3 million in funding over the next five years for Professor Grice's project "Interpreting the molecular record in extraordinarily preserved fossils", which aims to unlock the hidden record of our planet's ancient life by examining microscopic soft tissue samples left in fossils, and investigate how the Earth may have been impacted by events such as asteroid impacts and ancient episodes of climate change. Congratulations to Kliti on her outstanding success.
---
Mapping Australia using Pb isotopes
Posted 14 July 2021
Led by Professor Chris Kirkland, The Timescales of Mineral Systems Group at TIGeR has been working collaboratively with the Geological Survey of Western Australia to produce a statewide map of Pb isotope signatures in rocks of different ages and, in a major new partnership, has commenced work with Geoscience Australia to expand its Pb isotope database to other parts of Australia as well. The Pb incorporated into rocks when they form carries an isotopic signature that reflects the time-integrated accumulation of radioactive decay products of U and Th in the source.  These varying signatures can be used in a wide range of applications to track geological processes through both time and space. Pb isotopes are particularly useful in the understanding of magma sources, igneous recharge processes, fractionation, contamination, and crystallization in the crust. Such geological processes may be critical in mineral systems and understanding of them may contribute to reducing mineral exploration risk. Furthermore, Pb isotope signatures of basement rocks may provide an important national isotopic baseline for diverse usage including sedimentary provenance through to archaeology.
---
Finding real gold in fool's gold
Posted 8 July 2021
Led by DECRA Fellow Dr Denis Fougerouse, TIGeR researchers and collaborators at The University of Western Australia and China University of Geosciences, have recently published in the international journal Geology, an in-depth study to better understand the mineralogical location of gold trapped in pyrite (commonly known as fool's gold), which may lead to more environmentally friendly gold extraction methods. Previously, gold in pyrite was known to occur as nanoparticles or as a pyrite-gold alloy, but the team discovered that gold can also be hosted in nanoscale crystal dislocations, representing a new kind of "invisible" gold. Such dislocations are 100,000 times smaller than the width of a human hair and require specialised scientific instrumentation to analyse them. For their study, Fougerouse and co-workers used the Geoscience Atom Probe facility hosted in the John de Laeter Centre at Curtin, which is at the forefront of innovation in the fields of mineralogy, geochronology and geochemistry at the nanoscale.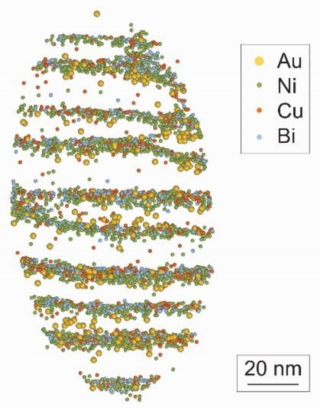 ---
Top faculty research awards go to TIGeR
Posted 8 July 2021
TIGeR researchers cleaned up at this year's Faculty of Science and Engineering awards ceremony held at Curtin on June 25, taking out both the individual and team researchers of the year awards. Professor Chris Kirkland who leads the Timescales of Mineral Systems group in TIGeR won individual Researcher of the Year, while the Earth Dynamics group led by Professor Zheng-Xiang Li won Research Team of the year. Congratulations to all winners and nominees.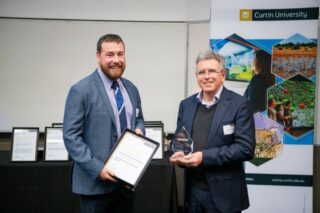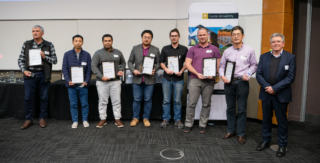 ---
TIGeR to sponsor national geoscience conference in WA
Posted 1 June 2021
With our annual international conference still on hold due to COVID, this year TIGeR is instead sponsoring the 'Earth, Sea and Sky' conference to be held in Yallingup, in the southwest corner of WA, November 2-6.  This meeting is being organised by the Geological Society of Australia's Specialist Group in Geochemistry, Mineralogy and Petrology (SGGMP).  The conference themes include Global Cycles, Low and High Temperature Processes and Critical Minerals. TIGeR's Professor Kliti Grice is one of the invited keynote speakers, Associate Professor Nick Timms is leading two of the associated field trips, and we expect TIGeR staff and students to be well represented overall.  Registration is now open.
---
Three new state-of-the-art mass spectrometers arriving in 2021
Posted 4 May 2021
Recent infrastructure grant successes have paved the way for a series of exciting upgrades of analytical facilities at Curtin in 2021.  Already commissioned into the John de Laeter Centre in February is a next-generation Time-Of-Flight Secondary Ion Mass Spectrometer (ToF-SIMS) acquired via an ARC-LIEF grant led by TIGeR Professor Kliti Grice.  TOF-SIMS provides detailed elemental, isotopic and molecular information on surfaces, interfaces and thin layers, with sensitivity reaching into the parts per billion range.  The IONTOF M6 instrument will greatly enhance our capability for high-resolution ion imaging (50 nm lateral, 1 nm depth) of both organic and inorganic materials.
Due to arrive in the Argon Isotope Laboratory in the second half of 2021, the ThermoFisher ARGUS VI+ noble gas mass spectrometer, a joint acquisition with the University of Melbourne, will be capable of ultra-precise argon dating of geological and archaeological materials.  According to facility leader Professor Fred Jourdan, the new instrument will allow ever smaller and younger samples to be dated accurately, resulting in new knowledge on topics as diverse as solar system genesis, hominid evolution, indigenous migrations, palaeo-climate change, natural hazards and ore deposit formation.
The third new addition, the CAMECA IMS 1300-HR large geometry ion microprobe, specialising in high-resolution isotopic analysis and imaging of mineral samples down to the nano-scale, is also expected by the end of the year.  Funded by Curtin, AuScope, NCRIS and the WA State Government to replace our oldest SHRIMP ion probe, the 1300-HR is a versatile instrument that can be employed across the full range of geological dating and isotopic fingerprinting applications.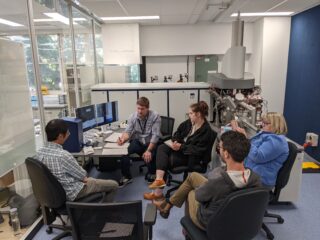 ---
TIGeR supports research voyage studying carbon sequestration in the Southern Ocean
Posted 9 March 2021
TIGeR supported researcher Dr Charlotte Robinson (Remote Sensing and Satellite Research Group; RSSRG) recently returned from a 42-day research voyage studying components of the carbon-cycle in the 'twilight zone' of the Southern Ocean. The research conducted on the CSIRO Marine National Facility RV Investigator was part of a multi-disciplinary project, SOLACE: Southern Ocean Large Areal Carbon Export, which brought together biogeochemical sampling, acoustics, marine animal trawls, and a variety of robotic measurement and imaging systems to quantify the sources and sinks of carbon in the sunlit layer of the ocean between 47-57 oS. Dr Robinson deployed a variety of in-water and above-water instrumentation to measure and relate the optical properties of the water to the phytoplankton, microscopic producers of carbon, in the ocean. Despite challenges related to CV-19 restrictions, the twenty scientists on-board achieved a number of significant scientific activities, including the deployment of version 6 of the Underwater Video Profiler on the ship water collecting/water profiling rosette and on autonomous robotic float profilers. They also collected an extensive above-water radiometry (hyperspectral measurements of light leaving the ocean surface) dataset which will be crucial for improving satellite derived estimates of surface ocean carbon pools, especially once the new NASA hyperspectral satellite is launched in 2023. The project involved collaborations and contributions from the CSIRO Marine National Facility, the University of Tasmania's Institute for Marine and Antarctic Studies (IMAS), the Australian National University (ANU), Curtin University and the Australian Antarctic Program Partnership (AAPP).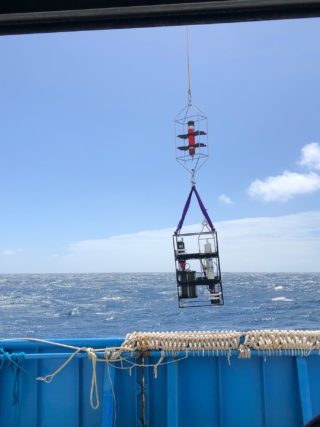 ---
TIGeR leads science observation campaign for JAXA's Hayabusa-2 capsule re-entry
Posted 25 February 2021
TIGeR researchers in our Desert Fireball Network team set out to observe the re-entry of JAXA's Hayabusa-2 capsule over South Australia in December 2020.  They partnered with colleagues from Kochi University of Technology and their partners at Nihon University and Ibaraki University to observe the effects of this planned fireball event.  As Japanese colleagues were unable to travel due to Covid19 restrictions, the Curtin team led the observation campaign, deploying 83 instruments from both Japan and Australia.  As well as existing camera sites from the DFN, 7 additional sites with cameras, seismic and infrasound sensors were deployed along the path of the trajectory, including new equipment obtained through TIGeR and Faculty of Science and Engineering grant schemes.  Data were recorded by 97% of stations – a huge success.  Our team will use this controlled re-entry to assess how well they can predict the origins and fall positions of natural space rocks – meteorites.  Meteorites are some of the most primitive samples we can study.  Knowing where in the Solar System they come gives the in situ information missing from >99.9% of current meteorite samples.  This is fundamental to improving our understanding on the formation and evolution of our Solar System.